Gary Hogben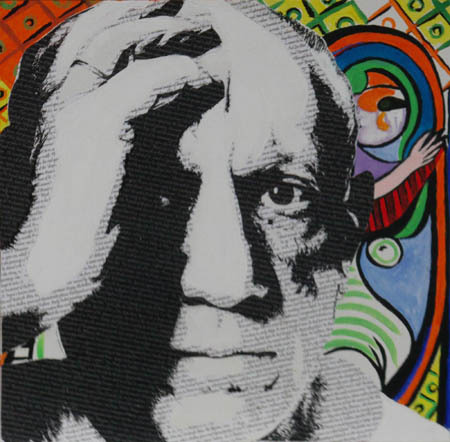 http://www.cocksoupart.co.uk
Who is Gary Hogben, Would be artist, Middle aged English chap living in Kent, I have always been interested in art since an early age, and I started off by doing pencil sketches of animals, and progressed onto watercolours, giving these away to members of my family.
My first oil painting was done when I was 17, the earliest painting represented on this site is a copy of Metamorphosis of Narcissus by Salvador Dali, which I did in 1985, and it took six weeks!
After that was done I completed numerous other paintings, mostly copies of Impressionist works.
If I liked it, I painted it.
Between 1996 and 2008 I did not paint a thing, only taking up the paint brush, or in this case the spray can after a visit to a street art exhibition, I thought to myself, how hard can that be?.
So I started to experiment with stencils and spray-paint. Progressing onto collage work, the result over the last few years is over 150 artworks, including quite a few commissions. I have sold internationally to America, Canada, New Zealand, Germany,Italy and Switzerland.
I have now started producing digital pieces using scanned British stamps
Some of my pieces have now been featured in the following magazines, Vogue - January 2016, GQ - February 2016, GQ - March 2016, House of Coco - Spring edition, Coach magazine - issue 23.
Shows/Exhibitions
'Londoners Compass' Group show at The Strand Gallery, London, 18th to 23rd October 2016
Urban Art 2010, 2012, 2013, 2015 and 2016, Brixton, London
'Modern day street art and beyond' Group exhibition 21st Sept 2009 to 24th Oct 2009 at The Knapp Gallery, Regents College, Regents Park, London.
CAN? a group show @ Cultivate, Vyner Street 2nd May - 21st May 2013
Group show at Harvey's Celler's Bristol
Mixed Media group show at Candid Arts Trust, Islington, January 2015
'A Gun for your mouth and a bullet with your name on it' Solo show at Doopo Doopo Forest Hill, December 2014
'Londoners Compass' Group show at The Strand Gallery, London, 18th to 23rd October 2016
Focus LDN Winter Exhibition, Menier Gallery, London 13th - 17th December 2016
Stampex, International stamp exhibition, London 13th - 17th February 2018